Jocey Designs can create some essential and attractive full colour print materials to help you promote your business. Business cards, postcards/Web cards, flyers, note pads and sell sheets are very powerful, easily accessible, yet surprisingly affordable tools to grow your business. We can also produce address labels, envelopes, letterhead, and presentation folders to meet your exact specifications. All products are printed on high quality stock.
Contact Jocey Designs today to discuss your needs and the possibilities.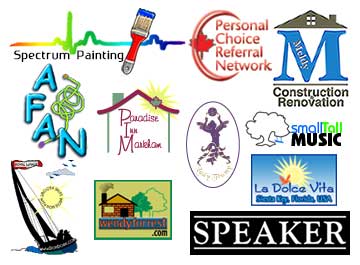 Logo: A good starting point, if you do not already have one, would be to create a unique logo which represents your coporate identity. This is an essential and necessary component in any branding effort. It is a mark of distinction by which people can easily recognize your company.
Business Cards: Every serious business person needs a professional looking and well designed "Calling" card to network, make contact and leave a lasting positive impression. Business cards are a cost efficient and non intrusive way to promote your services and/or products. It has been proven that by generously handing out your business cards, you will increase your sales. At a cost of a few pennies each, it is a very simple, direct and cheap form of advertising, the most important marketing tool you can buy. Not only are business cards affordable, portable and versatile but people expect you to have one.
Postcards/Web Cards: A powerful, effective and affordable marketing tool to promote your business and increase customer loyalty. They leave a lasting impression and standout from the rest. Raise above the competition by being noticed. Use postcards to advertise new products or services, special offers, events and sales, make announcements, invitations, stay in touch or hail the launch of your Web site.
Real estate agents also find postcards a very productive and cheap method of advertising new property listings or their Web sites. Postcards can be used as a valuable resource to offer free info or tips... to do things easier, faster, cheaper.
Postcards can be printed in standard size 4" X 6", or oversized at 8.5" x 5.5".
Use oversized cards to make a bold and colourful statement as well as to advertise your services and/or products at the same time. The possibilities are affordable and limitless.